Hella marine launches new Sea Hawk-R deck floodlights.
Future technology has been applied to the successful Sea Hawk series for class leading efficiency and guaranteed durability.

Sea Hawk-R housings are 'Non-metal', precision injection moulded from thermally conductive ceramic polymer that is highly resistant to degradation, even under harsh UV. Effectively transferring heat away from internal electronics to external surfaces for reliable long-term operation, Hella marine's thermal polymer eliminates the requirement for an aluminium housing in this class of floodlight, removing potential surface deterioration and material corrosion risks associated with coated metal in the harsh marine environment.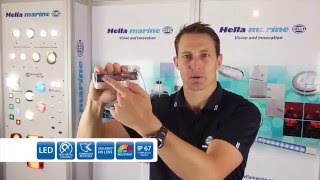 play video

Sea Hawk LED Floodlight Features and Benefits


The Sea Hawk-R offers 550 lumens for only 7W of consumption. The engineered optical system illuminates with a wide, close-range spread over cockpits, foredecks or working areas on commercial and recreational vessels.

Hella marine benchmarks such as protected 9-33V internal electronics, sealed, pre-wired cable assemblies, Grilamid lens for strength and UV resistance, easy friction based vertical adjustment, 316 stainless steel brackets and fastenings and the well-recognised 'Fit and Forget' 5 Year LED warranty are further advantages of the Sea Hawk series.
| | Option | Part Number | |
| --- | --- | --- | --- |
| | White Light, Black Housing - Spread | 2LT 980 573-011 | |
| | White Light, White Housing - Spread | 2LT 980 573-021 | |
| | Warm White Light, Black Housing - Spread | 2LT 980 573-051 | |
| | Warm White Light, White Housing - Spread | 2LT 980 573-061 | |
| | |
| --- | --- |
| Material description | 'Non metal' thermally conductive polymer housing . Heavy duty Grilamid lens |
| Bracket | Polished 316 stainless steel |
| Colour temperature | 5000K (White) / 3000K (Warm White) |
| Cable | Pre-wired with 2.5m of twin core marine cable |
| Operating Voltage | Multivolt™ 9-33V DC |
| Degree of Protection | IP 67 - Completely sealed |
| Power Consumption | 7W (<0.6A@12V / <0.3A@24V) |
| Weight | 250g (including cable) |
| Light Output | 550 lumens |
| Approvals | CE, RCM |
| Manufactured in | New Zealand |
| | Option | Part Number | |
| --- | --- | --- | --- |
| | White Light, Black Housing - Spread | 2LT 980 573-011 | |
| | White Light, White Housing - Spread | 2LT 980 573-021 | |
| | Warm White Light, Black Housing - Spread | 2LT 980 573-051 | |
| | Warm White Light, White Housing - Spread | 2LT 980 573-061 | |
| | |
| --- | --- |
| Material description | 'Non metal' thermally conductive polymer housing . Heavy duty Grilamid lens |
| Bracket | Polished 316 stainless steel |
| Colour temperature | 5000K (White) / 3000K (Warm White) |
| Cable | Pre-wired with 2.5m of twin core marine cable |
| Operating Voltage | Multivolt™ 9-33V DC |
| Degree of Protection | IP 67 - Completely sealed |
| Power Consumption | 7W (<0.6A@12V / <0.3A@24V) |
| Weight | 250g (including cable) |
| Light Output | 550 lumens |
| Approvals | CE, RCM |
| Manufactured in | New Zealand |