The Amber 110/230V AC HypaLUME has been designed for applications where high output lighting in extreme environments is required. Using light with a warmer colour temperature can provide additional improvements in visibility for areas of high dust, fog and/or snowy conditions. The lamp produces a net output of 19,000 lumens at a voltage input range of 100-240V AC whilst only consuming 260W.
Comprehensive sealing and anti-corrosion measures have been taken to ensure this lamp withstands the toughest conditions. The premium aluminium housing is corrosion resistant with a non-stick and easy to clean surface coating. Heavy duty polycarbonate lens offers unbeatable toughness against impacts and vibration. The LEDs have a colour temperature of 2500K to produce significantly reduced glare compared to traditional white flood lighting.
The LED driver electronics ensure light output remains stable over a wide range of voltage variations. The HypaLUME is also protected from over voltage and short circuit faults. The HypaLUME is designed to operate over a temperature range from -40°C to +50°C.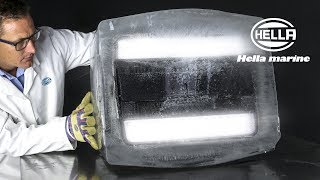 play video

HypaLUME Extreme Testing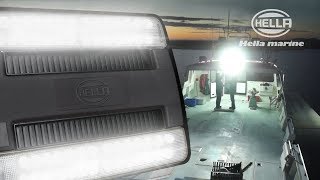 play video

Hella marine HypaLUME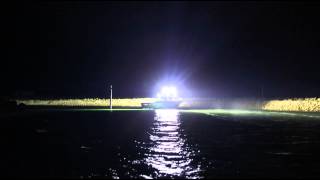 play video

HypaLUME LED Work Lamps
| | Opzione | Codice articolo | |
| --- | --- | --- | --- |
| | HypaLUME Amber 110/230V AC LED - Close Range | 1GJ 958 334-111 | |
| | HypaLUME Amber 110/230V AC LED - Long Range | 1GJ 958 334-121 | |
| | HypaLUME Amber 110/230V AC LED Extra Wide | 1GJ 958 334-131 | |
| | |
| --- | --- |
| Mounting | Upright or pendant |
| Operating Voltage | Optimum brightness at input voltages from 100 to 240V volts |
| Power Consumption | 300W max. |
| Actual Light Output | 19,000 lumen |
| Operating Temperature | -40°C to +50°C |
| LED Colour Temperature | 2500 K |
| Degree of Protection | IP 66 and IP 67 (Protection against dust, high pressure water jets and temporary water immersion) |
| Degree of Protection | Over voltage, short circuit and over temperature protection |
| Cable Length | Supplied with 2.0m of easy plug-in sheathed cable |
| Connection | Wieland RST Mini - 16A |
| Lens Material | PC |
| Approvals | CE, C-Tick, FCC, ISO13766, ECE R10 |
| Document | File Name | File Size |
| --- | --- | --- |
| Foglio istruzioni | HypaLUME_110_230V_AC_1GJ 958 334-xxx_Instructions-.pdf | 3.53 MB |
| | Opzione | Codice articolo | |
| --- | --- | --- | --- |
| | HypaLUME Amber 110/230V AC LED - Close Range | 1GJ 958 334-111 | |
| | HypaLUME Amber 110/230V AC LED - Long Range | 1GJ 958 334-121 | |
| | HypaLUME Amber 110/230V AC LED Extra Wide | 1GJ 958 334-131 | |
| | |
| --- | --- |
| Mounting | Upright or pendant |
| Operating Voltage | Optimum brightness at input voltages from 100 to 240V volts |
| Power Consumption | 300W max. |
| Actual Light Output | 19,000 lumen |
| Operating Temperature | -40°C to +50°C |
| LED Colour Temperature | 2500 K |
| Degree of Protection | IP 66 and IP 67 (Protection against dust, high pressure water jets and temporary water immersion) |
| Degree of Protection | Over voltage, short circuit and over temperature protection |
| Cable Length | Supplied with 2.0m of easy plug-in sheathed cable |
| Connection | Wieland RST Mini - 16A |
| Lens Material | PC |
| Approvals | CE, C-Tick, FCC, ISO13766, ECE R10 |